The Mosaic Family Team would like to offer parents and carers of high school children the opportunity to join a brief virtual workshop focused on opening up communication with your teenager about drugs and/or alcohol.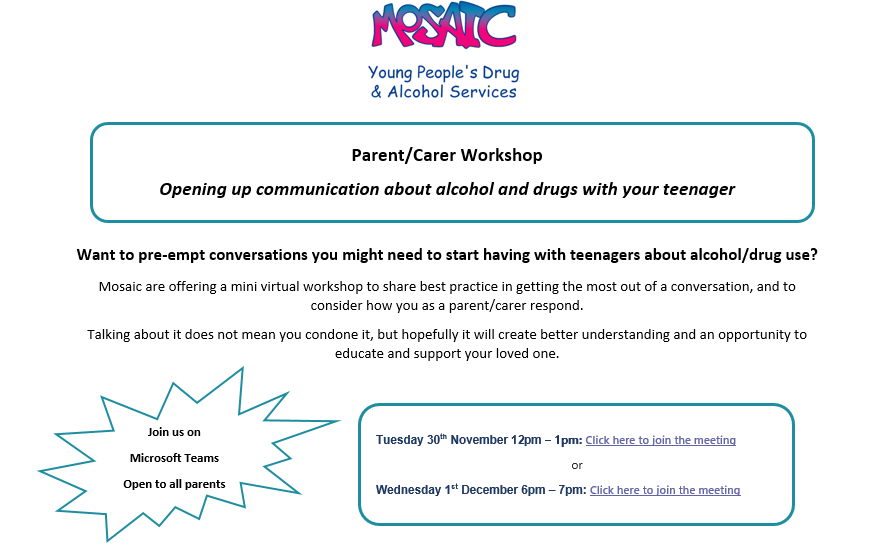 The aim of the workshop will be;
To support parents/carers to open positive lines of communication around alcohol and substances with their children. Talking about it does not condone it
For alcohol and substances to not be taboo within families or societies
To consider why teenagers may be pushed/pulled to use substances
To share our approach in broaching the subject, and getting the most out of a conversation
To consider how you might respond
Signposting to services
The session will be delivered on Microsoft Teams as an open invitation. Parents and carers can join either a lunchtime or evening slot. The sessions will run for approx. 45 minutes, with time at the end for questions.
The sessions are scheduled to take place on Tuesday 6th July at 12pm, and Wednesday 7th July at 6.30pm.
This is not a drug/alcohol education session, although we do plan to attach a Harm Reduction Advice Booklet, and advice on staying safe this summer to the end of the presentation.
Tuesday 30th November 12pm – 1pm Click here to join the meeting
Wednesday 1st December 6pm – 7pm Click here to join the meeting