Citizenship
Malala Yousafzai: "When the whole world is silent, even one voice becomes powerful."
Meet the Citizenship Department
| | | |
| --- | --- | --- |
| Name: | Title: | Email address: |
| Mrs C. Morrison | Assistant Headteacher, Head of Department | |
| Miss G. Loynds | Teacher of Citizenship, RE and Spanish | |
| Mr J. Edwards | Teacher of Citizenship | |
| Miss F. Rockey | Key Stage 4 Lead, Teacher of Citizenship | |
The Citizenship curriculum aims to educate and provide pupils with opportunities to develop the skills required to play an active role in society today. The curriculum explores a variety of real life issues, and helps pupils to develop their own opinions on these, whilst learning and respecting the views of others' around them.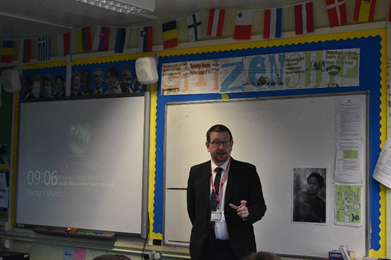 The GCSE curriculum follows the Edexcel specification, and helps pupils to understand the workings of the UK that contribute to British Values, whilst providing opportunities to explore real life case studies and controversial issues to develop the skills of forming an opinion, debating and respecting the views of others.
The aims and objectives of this qualification are to enable pupils to:
Know and understand what democracy is, how parliamentary democracy operates within the constituent parts of the UK, how government works and how democratic and nondemocratic systems of government are different beyond the UK
Know and understand the relationship between the state and citizens, the rights, responsibilities and duties of citizens living and working in the UK and how people participate in democracy
Know and understand how the UK legal system works, including the courts, roles and responsibilities of individuals, and sentencing and supporting offenders
Apply historic and modern day case studies and examples to enhance learning, and encourage pupils to take an interest in following current affairs
Think deeply and critically about a wide range of political, social, economic and ethical issues and questions facing society in local to global contexts
Use and apply knowledge and understanding as they formulate citizenship enquiries, explore and research citizenship issues and actions, analyse and evaluate information and interpret sources of evidence
Use and apply citizenship knowledge and understanding to contribute to debates, show understanding of different viewpoints, make persuasive and reasoned arguments, and justify and substantiate their conclusions
Use and apply citizenship knowledge, understanding and skills in order to participate in responsible actions to address citizenship issues aimed at improving society and positively contributing to democracy and public life, as individuals and in collaboration with others.
Please click the link below to view the Citizenship Curriculum Overview, KS3 and KS4 Assessment Overview