English
"Read like a writer; write like a reader."
Meet the English Department
| | | |
| --- | --- | --- |
| Name: | Title: | Email address: |
| Mrs F. Dunlop | Head of Department | |
| Mrs T. Clark | Second in Department | |
| Mrs Y. Akthar | Lead Teacher | |
| Mrs S. Brown | Teacher of English | |
| Mr D. Fisher | Teacher of English | |
| Mrs C. Eyre | Teacher of English | |
| Miss S. Ryan | Teacher of English | |
| Miss M. Moore | Teacher of English | |
| Miss A. Robinson | Head of Year, Teacher of English | |
| Miss N. Yeung | Teacher of English | |
| Ms C. Forsyth | Associate Assistant Headteacher, Teacher of English | |
Intent
English lessons at Reddish Vale will give students a profound appreciation of the spoken and written word and equip them with the skills to express themselves confidently in a variety of situations, both in and outside of the classroom.
Skills acquired in English have a positive influence on all other curriculum subjects, are vital in any walk of life and tie into our whole school values of Respect, Aspiration, Determination and Independence.
Our English curriculum uses the National Curriculum requirements for reading, writing, and spoken language as a springboard to a broad and deep study and love of English. The five year journey begins at KS3 where, as part of a pilot scheme funded by the Education Endowment Fund, Reddish Vale High School students follow the Ark+ Mastery Curriculum in Key Stage 3. This exciting opportunity provides our young people with a grammar-focused programme of learning and dedicated Reading for Pleasure sessions across the timetable. The Ark+ Mastery Curriculum also has a secure focus on literary heritage, encouraging scholarship within all pupils as they engage with seminal works of literature. This builds an effective foundation for KS4, where pupils are emboldened to think freely and independently; pupils are encouraged to think, question and form opinions on a huge variety of topics to support their growth as global citizens. Their study in KS4 follows the National Curriculum and Edexcel requirements; pupils study for two GCSEs, both English Language and English Literature, assessed through linear examinations at the end of Year 11.
We aim to:
Create a journey of English knowledge that builds on prior learning
Develop a wide range of literacy and study skills
Grow knowledge- and vocabulary-rich young people
Encourage a life-long interest in literature, drama and media
Promote independence and resilience in learning
Scheme of Learning/Courses/Curriculum Map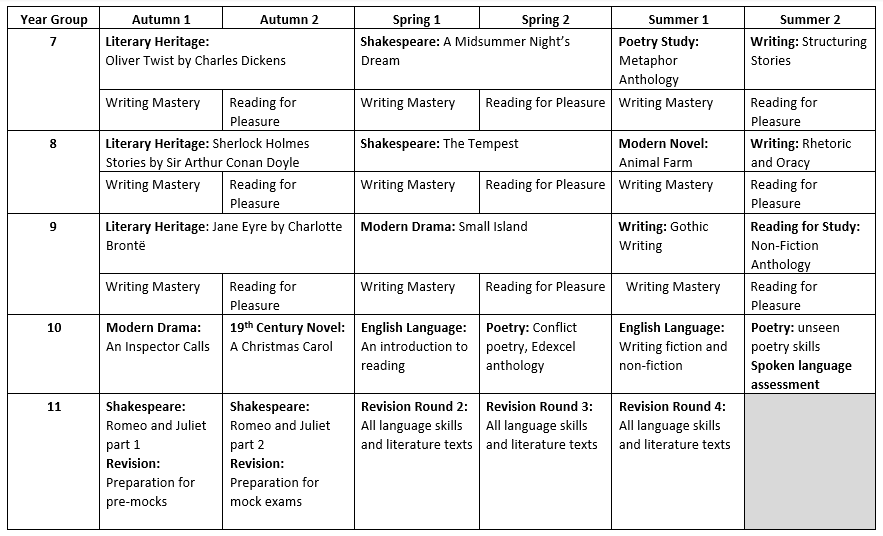 Exam board Specification - Pearson Edexcel
English Language https://qualifications.pearson.com/content/dam/pdf/GCSE/English%20Language/2021/specification-and-sample-assessment/9781446966709-gcse-2021-l12-eng-lang-2-0.pdf
English Literature https://qualifications.pearson.com/content/dam/pdf/GCSE/English%20Literature/2015/specification-and-sample-assesment/9781446914359_GCSE_2015_L12_Englit.pdf
Feedback Policy
The primary purpose of feedback is to move students on with their learning. Students receive feedback on their learning in a number of different ways, both formally and informally.
Formative assessment takes place every lesson in many forms including:
Low stakes quizzing
Live marking in lessons
Questioning
Peer and self-assessment (green pen)
Examination style questions
Students are provided with detailed written feedback on longer pieces of written work and key pieces. Next steps marking is implemented, alongside other techniques to promote learning and progress. Students are expected to respond to their feedback and make improvements to their work by acting upon it immediately using purple pen.