Geography
Nelson Mandela: "Education is the most powerful weapon which you can use to change the world."
Meet the Geography Department
| | | |
| --- | --- | --- |
| Name: | Title: | Email address: |
| Mr T. Robinson | Head of Department | |
| Ms H. Moore | Teacher of Geography | |
| Mrs K. Meakin | Teacher of Geography and Travel & Tourism | |
Intent
Geography is, by nature, an investigative subject, which develops an understanding of concepts, knowledge and skills. We as Teachers seek to inspire our students and create curiosity and fascination about the world and its people; to promote an interest and
understanding of diverse places, people, resources and natural and human environments, together with a deep understanding of the Earth's key physical and human processes. The curriculum is designed to develop knowledge and skills that are progressive, as well as transferable.
The geography curriculum is planned with the goal of introducing a love for learning in geography, improving knowledge retention and reading skills whilst also preparing students for the academic demands of being a geographer in the modern world. We focus on: geographical knowledge and understanding; application of this knowledge and geographical skills. We work with students to develop knowledge retention,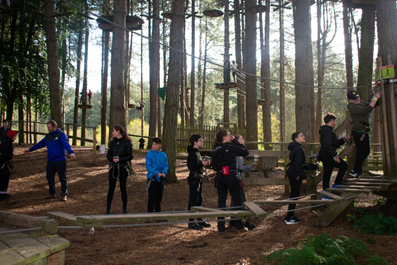 improve literacy in order to demonstrate understanding and practice decision making and problem solving in order to apply knowledge to new contexts. Finally, the whole of the geography curriculum is underpinned by the accrual of the skills necessary to research and investigate problems. These include, map skills, numeracy skills, data skills, graph skills, fieldwork skills and investigative skills.
Scheme of Learning/Courses/Curriculum Map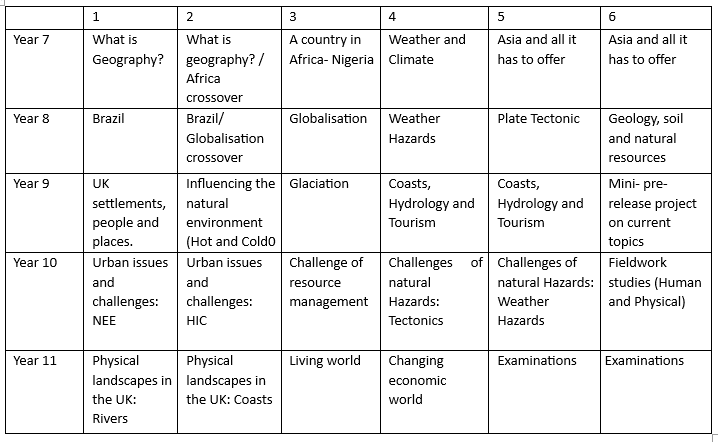 Exam Board Specification - AQA GCSE Geography
https://www.aqa.org.uk/subjects/geography/gcse/geography-8035/specification-at-a-glance
Feedback Policy
The primary purpose of feedback is to move students on with their learning. Students receive feedback on their learning in a number of different ways, both formally and informally.
Formative assessment takes place every lesson in many forms including:
Low stakes quizzing
Live marking in lessons
Questioning
Peer and self-assessment (green pen)
Examination style questions
Students are provided with detailed written feedback on longer pieces of written work and key pieces. Next steps marking is implemented, alongside other techniques to promote learning and progress. Students are expected to respond to their feedback and make improvements to their work by acting upon it immediately using purple pen.
The staff within the department are expected to follow not only the whole school feedback policy but also one that is specific to Geography.