Religious Education
Gandhi: "Be the change you want to see in the world"
Meet the Religious Education / Ethics & Morality Department
| | | |
| --- | --- | --- |
| Name: | Title: | Email address: |
| Miss F. Rockey | Head of Department | |
| Mr J. Edwards | Teacher of Citizenship, RE and PSHE | |
| Mr G. Jones | Teacher of Citizenship, RE and PSHE | |
| Miss H. McCormack | Teacher of Citizenship, RE and PSHE | |
Intent
Throughout the study of Religion Ethics and Morality and GCSE Religious studies, we promote academic excellence by allowing students to develop their knowledge and understanding about and from the principal religions and world views represented in Great Britain. This enables students to develop respect for other people, their beliefs and lifestyles and promotes personal growth by offering them the opportunity to explore their own beliefs, values and ideals in light of their learning. Our curriculum is based upon the Manchester Agreed Syllabus for Religious Education. The curriculum prepares students to be citizens in an ever increasingly diverse society, and allows them a safe space to debate and discuss sensitive issues.
Scheme of Learning/Courses/Curriculum Map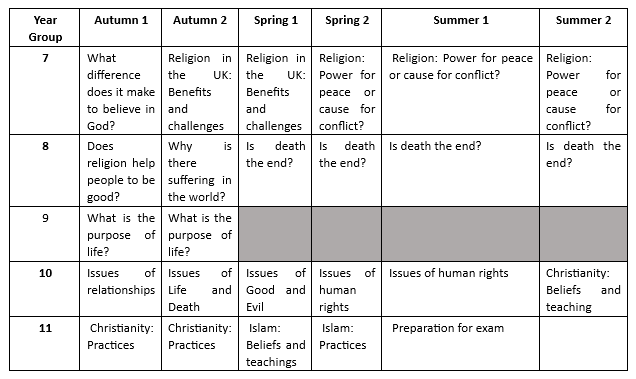 Exam board specification: GCSE Religious Studies – Eduqas Route A
https://www.eduqas.co.uk/media/wpojjvm0/eduqas-gcse-rs-spec-full-from-2016-e-14-05-2020.pdf
Feedback Policy
The primary purpose of feedback is to move students on with their learning. Students receive feedback on their learning in a number of different ways, both formally and informally.
Formative assessment takes place every lesson in many forms including:
Low stakes quizzing
Like marking in lessons
Questioning
Peer and self-assessment (green pen)
Examination style questions
Students are provided with detailed written feedback on longer pieces of written work and key pieces. Next steps marking is implemented, alongside other techniques to promote learning and progress. Students are expected to respond to their feedback and make improvements to their work by acting upon it immediately using purple pen.