Results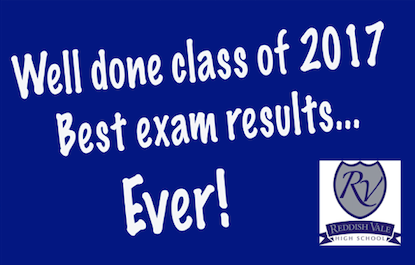 Reddish Vale High School celebrate the fabulous results of 2017
Pupils, parents, staff and governors at Reddish Vale are celebrating the results achieved by their school leavers in 2017. All of the hard work put in by everyone has been rewarded.
Based upon pupil progress Reddish is one of the top 3 schools in Stockport. We are currently ranked 23rd for progress in Greater Manchester out of 190 eligible schools. The new progress 8 measure is designed to reward schools that push every pupils to achieve their potential. A school's progress 8 score is an average of all pupils' individual scores. It shows whether, as a group, pupils in the school made above or below average progress compared to similar pupils in other schools.
Based upon progress Reddish is the most improved school in Stockport over the last academic year. Over the last three years, Reddish Vale has gone from strength to strength and continues to strive for improved outcomes for the whole community.
14% of pupils achieved at least five A grades/ 7+ grades, an increase of 7%. In English 22% of pupils achieved a grade 7 or better. Reddish Vale pupils have high ambitions. Our pupils have gone on to achieve the highest grades at KS5 and secure places at Oxbridge and Russell group Universities.
Pupils achieve success across the whole curriculum. In the legacy GCSE subjects there are record results, all above the national average: science 70%, history, 77%, geography 76%, art 97%, citizenship 73%, health and social care 81%, music 100%, PE 97%.
We are also celebrating success outside of the classroom. Year 8 pupils representing the school at the local Institute of Technology science competition, won and are now battling to win the place to represent the North West of England. In addition to this success, the school has been recognised as being in the National League Tables for the Top State Schools for sports performance.
What a great year!