The Library

The Library open times for pupils are 8.30am until 4.00pm, it is also open during both break times and both lunch times. The pupils have access to sixteen PCs which are linked to a printer, for homework and coursework use.

Pupils have access to a wide variety of up to date fiction and non-fiction books which can be loaned for two weeks at a time. Daily newspapers are available and also a few magazines. There are also quiz and puzzle activity sheets available

Book Mates takes place in the library Tuesdays and Wednesdays during tutor time, where year nine and year ten pupils pair up with year seven and year eight pupils to help improve their reading skills. The Better Reading Partnership takes place during tutor time, where struggling readers are paired up with members of staff to help improve their reading skills.

The pupils also have access to Accelerated Reader, a reading programme to promote independent reading for pleasure, with quizzes linked to books and a word count to inform the pupils how many words they have read.

The Careers adviser is also based in the library for advice and guidance, a selection of careers based information books and careers software packages as well as college and university prospectuses.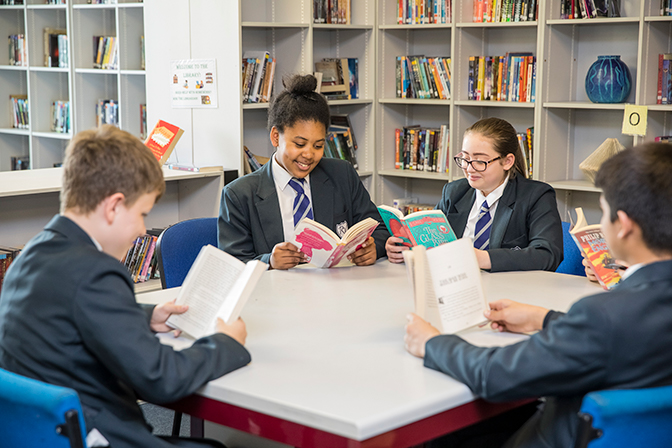 New children's laureate...
Chris Riddell unmasked as the new Children's Laureate
Chris Riddell is the new Waterstones Children's Laureate for 2015-2017! The award-winning writer, illustrator, political cartoonist and former Book Trust Online Writer in Residence said;
'I am humbled to take on this role after the giants that have come before me. I want to put the joy of creativity, of drawing every day, of having a go and being surprised at what one can achieve with just a pencil and an idea at the heart of my term as Laureate. I want to make sure people have fun whilst addressing fundamental issues I care about passionately.'
Chris is the ninth Children's Laureate, inheriting the role from Noughts and Crosses author Malorie Blackman, who presented him with the Laureate medal at a ceremony at Bafta today (9 June). Previous Children's Laureates include Jacqueline Wilson, Quentin Blake, Anthony Browne and Michael Morpurgo - who devised the award with Ted Hughes, then Poet Laureate.
Christ Riddell self portraitAs a child Chris admired the work of John Tenniel, the first illustrator of Alice in Wonderland, and E. H. Shepard, the illustrator of The Wind in the Willows and Winnie the Pooh. His interest in drawing was encouraged by his mother, when she gave him a paper and pen to keep him quiet during his vicar father's sermons!
It paid off as he went on to illustrate more than 100 children's books and win the Kate Greenaway Medal for illustrating twice (for 2001's Pirate Diary: The Journal of Jake Carpenter and 2004's Gulliver). No one has won three times! In 2010 he was again shortlisted for his illustrations in Neil Gaiman's bestseller The Graveyard Book.
Chris wrote his first children's story, Mr Underbed, in 1998. Further novels and collaborations followed and in 2013 he won the Costa children's book award for Goth Girl and the Ghost of a Mouse, a gothic parody created with daughter Katie in mind, which he chooses when asked to name his favourite of his own books.
As the new laureate Chris' focus will be to, use the immediacy and universality of illustration to bring people together and lead them all into the wonderful world of books and reading, whilst championing creativity in schools and beyond.
'I'm interested in illustration in all its forms, not only in books for children but in posters, prints and performance, as a way of drawing people into books and stories', said Chris. 'I want to continue to explore interesting ways to bring words and pictures together over the next two years.'
Chris is well known for his prolific use of labels, literary quotations, puns, and tongue-in-cheek humour loved by both adults and children, so he's sure to have something fun up his sleeve during his time as Laureate!
Diana Gerald said 'We are incredibly proud of our Children's Laureate programme because it is a vital element in championing, and embedding, the importance of children reading for pleasure. I can't wait to see the huge impact that Chris is going to have in bringing the power of reading to children across the country.'
To celebrate the announcement Chris Riddell has created these wonderful drawings of previous and current Children's Laureates.
www.childrenslaureate.org.uk
Authors website links
Click on the links below for a direct link to their websites.

www.lovereading4kids.co.uk

www.jacquelinewilson.co.uk

www.jkrowling.co.uk